English Teachers in Okinawa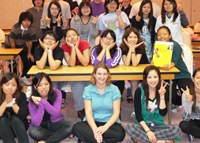 English Teachers in Okinawa can provide you with a full-range of language support services; in addition to English lessons, we offer Japanese & Chinese lessons as well. We also provide professional translation and interpreting services in several languages - English, Japanese, Chinese, Italian, French, Spanish, and many more. Not only do we provide a wide range of services that other language companies do not, but we also provide these services at your office/company. We go to you and match our schedule to fit yours!
Do you want to teach in Japan? FIND OUT MORE HERE!
At English Teachers in Okinawa, we can support all of your language needs. Our staff consists of native speakers who have experience teaching to companies in Okinawa, teaching at businesses both on and off base across Okinawa, teaching in Okinawa's Public Schools, instructing at Okinawan governmental agencies, and teaching at Okinawa Prefectural English training events. We would like to work together with your company to design a training program that meets your company's and your employees' specific needs.
Our training programs focus on providing your staff/students with the skills and confidence to face the challenges of using a foreign language in everyday and business settings. We design a program for your specific needs, so we do not waste your valuable time with lessons that are irrelevant to your company's needs. Additionally, we provide lessons that are not only useful, but fun and interesting as well.
The above is just a brief outline of what we can do for you. We can also help you with private lessons (adults & children), webpage design in several languages, organize accommodation & tours of Okinawa, language study and internship programs (in Okinawa & abroad), international exchange programs, international event coordination, import and export, international marketing and consulting, and supply you with bilingual staff. If you would like to know more, please feel free to call, email, or write us. We look forward to hearing from you.
Mike Holland


Founder/President
English Teachers in Okinawa
Study & Intern Okinawa